Anglican Diocese of Christchurch
St Luke's Chaplain to the Inner City
"Touching the sacred / serving the city".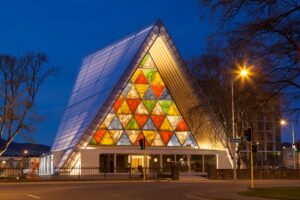 Have you a creative spirit with a zest for life, want a new challenge and a sense of adventure?
Have you a heart for inner city ministry and would be excited at the possibility of engaging with the people and the life of the city?
Are you an ordained Anglican priest or deacon in good standing in the Anglican Communion?*
If so, you are invited to make an application for the newly created position of St Luke's Chaplain to the Inner City based at Christchurch Cathedral, and if appointed will –
Be part of the praying community of the Ministry Team of the Cathedral.
Encourage, sustain and maintain contemplative spirituality amongst all people and sectors, of all faiths and none.
Be immersed in and engaged with the life and issues of the inner city of Christchurch, its sectors (including business, government, social services, arts, media etc), its events and festivals, its people.
The St Luke's Chaplain to the Inner City will be accountable to the Dean of Christchurch and to the Bishop of Christchurch who will license the appointee upon appointment
For background information on the role, a detailed position description, and application details, please contact Veronica Cross, Executive Assistant to the Anglican Bishop of Christchurch (bishopsea@anglicanlife.org.nz)
Applications will close at 5 pm Monday 11 October 2021
*Due to restrictions on migration and travel to New Zealand, even for NZ residents and citizens, applications from Anglican deacons or priests from outside of New Zealand will only be considered where the applicant is already eligible to come to New Zealand to live and to work.